Find Big discount for Fish and Aquatic products here
After a year apart, Halloween celebrations are back. While all of us love the candy and costumes that come with the holiday, oftentimes, it can lead to more plastic waste ending up in our ocean.
Halloween means more single-use plastic candy wrappers on the streets, more plastic decorations purchased, and more food delivery ordered. And most of this plastic has nowhere else to go but a landfill: a report released last month found that nearly 70% of the most commonly collected items from beaches and waterways around the world over the last 35 years of Ocean Conservancy's International Coastal Cleanup are effectively unrecyclable. Of these, approximately half are food and beverage related items like food wrappers, straws and stirrers, and takeout containers. With 11 million metric tons of plastics entering the ocean each year (that's more than a garbage truck every minute), we all have a part to play in stemming the tide. Whether you plan to hand out candy, decorate your stoop, or host a Halloween party, Ocean Conservancy is offering some simple tricks to make it the most ocean-friendly Halloween yet.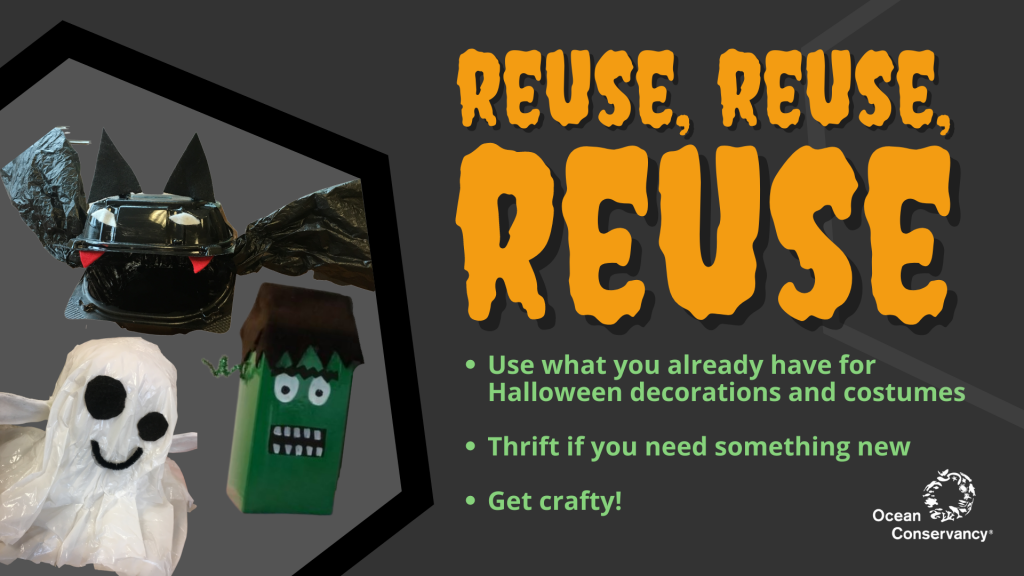 Reuse, reuse, reuse. Most Halloween decorations are made of plastic, and many are one-time-use only (like those stretchy white spider webs). Opt for decorations that are durable enough to stand the test of tricks (and weather), and that can be reused year after year. If you have a creative streak, see what you can create from items you already have at home, including in your waste or recycling bin. Try making jack-o-lanterns out of plastic takeout containers, spooky bats out of plastic clamshells, or even masks out of pizza boxes.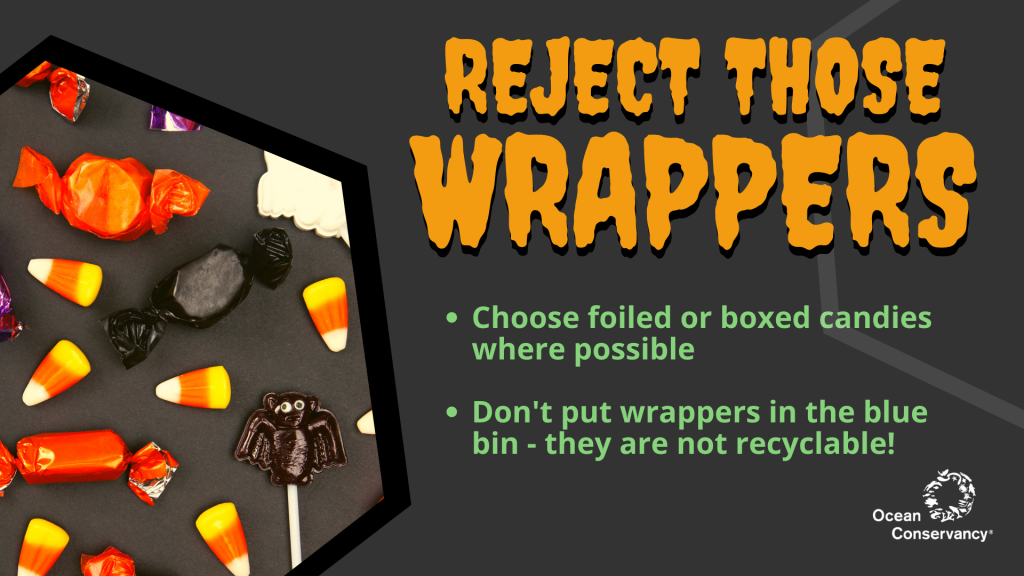 Reject those wrappers. In 2019, food wrappers overtook cigarette butts as the most commonly found item on beaches and waterways during Ocean Conservancy's annual International Coastal Cleanup. And we know they've been a problem for a long time: over the last 35 years of the International Coastal Cleanup, volunteers have collected over 26.5 million food wrappers. Despite their sometimes metallic appearance, food wrappers – which include candy wrappers – are made of plastic, which means they stay in the environment and our ocean indefinitely. They're also not recyclable. So for an ocean-friendlier Halloween, opt for boxed or foil-wrapped candies. If your little one collects loads of plastic-wrapped treats, make sure the packaging is tossed in the trash and not in the recycling bin (or worse, in the street). If you're staying inside and feeding friends and family, see what treats you can whip up that don't require wrappers at all.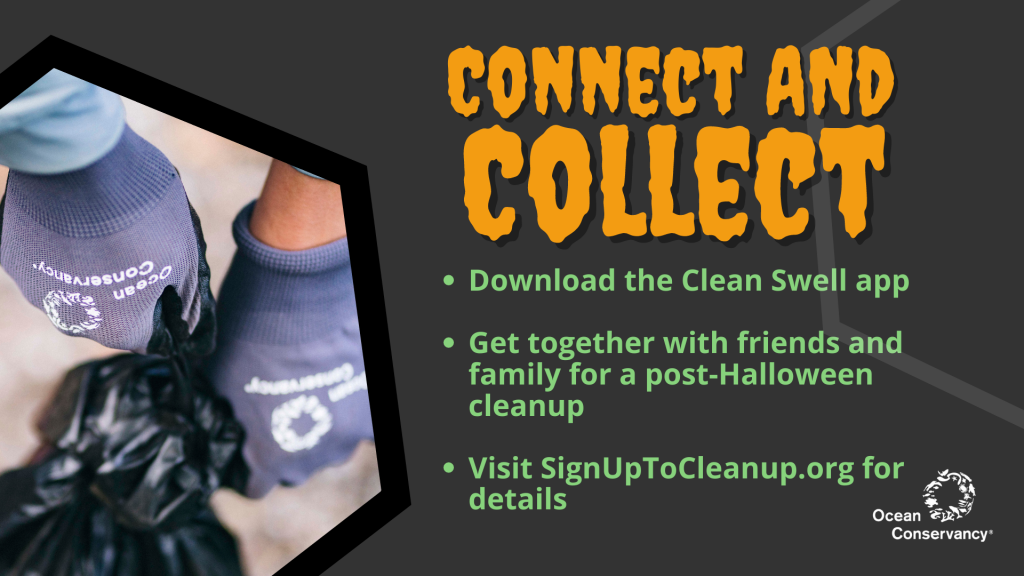 #ConnectAndCollect. Even with the best intentions, it's common in the days following Halloween to see candy wrappers strewn in the streets, or stray, lightweight plastic decorations hanging from trees or peeking behind bushes. Consider coming together with friends or family and doing a small group cleanup in your neighborhood. Ocean Conservancy created an easy guide for its International Coastal Cleanup that can be used all year round. Download Ocean Conservancy's award-nominated Clean Swell app and log what you find into the world's largest database of marine debris. No matter how far you are from the ocean, you'll be helping your community, and all the critters that rely on clean, healthy waterways to thrive.
Thank you to The Ocean Conservancy for this wonderful article!
Categories:
  Conservation, Events
Find Big discount for Fish and Aquatic products here