Find Big discount for Fish and Aquatic products here
Ever wonder how experienced aquarium owners manage to keep the water in their nano tanks so pristine?
Designed specifically for these challenges, some owners credit having one of the best nano protein skimmer models as a big step to keeping the water clean and your nano tank thriving (depending on what type of corals you want to keep).
Life, after all, is a messy business. There is a lot to clean up after. In addition to diligent maintenance and quality filtration, there are a variety of devices devoted to keeping your aquarium clean and healthy.
What you will find in this article
What is a nano protein skimmer?
A protein skimmer uses a clever trick of surface tension to trap organic pollutants – the byproduct of all the life in your tank – in tiny air bubbles which overflow to be "skimmed" out of the water column.
The result? A simple method of continuously removing pollution from your aquarium. Protein skimmers are often considered an essential piece of kit for saltwater aquariums large and small.
A nano protein skimmer is simply that same piece of equipment designed to fit in the smaller footprint of a nano aquarium. Maintaining pristine water quality is always to top imperative with a reef tank, but preventing degradation in water parameters is even more critical when the volume of water is low (like in a nano).
Have a bit more time to learn? Check out this YouTube video for more info:
If you are looking for the best protein skimmer for a full-sized aquarium, no need something larger than what is shown here on this page. Check out more reviews here.
Top Nano Protein Skimmer Models
Now let's get back into the pros and cons of the various models out there to help you decide which would be best for your nano tank. Before we get too far into it, however, something you should note that it seems like just about any nano model you pick is going to require some finnicky dialing in to get it to work at the level you want. There's something about the low water volume, small footprint and relatively cheaper construction that seems to plague the reviews of just about any model on the market. Still searching for the perfect one. If you have a suggestion, please leave it at the bottom of the post.
Aquatic Life 115 Mini Internal Protein Skimmer
This mini protein skimmer from Aquatic Life has a very small footprint and is rated for use in tanks up to 30 gallons. Designed with small and nano tanks in mind, this skimmer can fit comfortably in most nano tanks or be installed in an overflow or filtration compartment. It runs nearly silently on about 8 watts of power.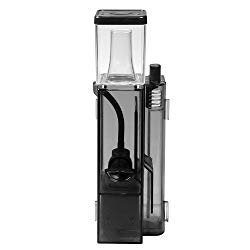 The design allows for easy access to areas that are sometimes hard to clean on other protein skimmers. Mounting or taking the skimmer out of the tank is made substantially easier by suction cups on the side of the skimmer. Also included is an adjustable bracket to secure the skimmer to the aquarium's frame.
While not the best nano protein skimmer, since it is offered at a budget price, this is a decent entry-level nano protein skimmer.
Owner Feedback
Some users have reported issues with manufacturing quality on some units which shorten the skimmer's lifespan or make assembly more difficult after cleaning.
Others also experience issues with the Aquatic Life 115 generating an excessive amount of micro-bubbles which can be quite unattractive to look at and even irritate the organisms in your tank.
Some (including Yvonne, a fantastic member of the SaltwaterAquariumBlog community) have shared that it took some time and adjustment to get it just right, including adjusting the air intake tube to get the right bubbles
Pros
Very affordable nano protein skimmer
Small footprint easily installs in nano tanks
Rated for up to 30 gallons – plenty for a nano setup
Cons
Generates a high volume of micro-bubbles in some tanks
Some customers complain of manufacturing errors and challenges with putting it all back together once you take it apart for cleaning…that's not exactly a great feature
Check out prices for the Aquatic Life 115 Mini on Amazon
Hydor USA SlimSkim Internal Skimmer for Mini Aquariums and Mini Reefs
As the name implies, the Hydor SlimSkim has a tiny footprint which allows it to sit comfortably in nano tanks. Designed to clean tanks of up to 35 gallons, the SlimSkim is engineered to be housed in the first chamber of your nano tank. It's one of the only nano protein skimmers small enough to be placed in this part of a nano tank.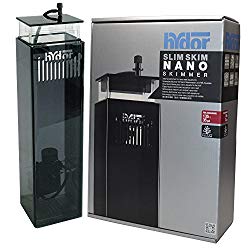 More than just mini, the SlimSkim is also extremely quiet and energy efficient, operating on just 4 watts of power, which is half the energy used by the Aquatic Life 115.
Quick to set up, the SlimSkim has magnet mounted suction cups which make short work of installing the skimmer into your tank and allow for uncomplicated removal when it comes time to clean out the skimmer. This magnetic mounting system is a step above the sometimes questionable plastic supports many nano protein skimmers use to hold themselves up.
Some users have remarked on the SlimSkim sometimes presenting challenging in setting it up for optimal skimming action. It can be highly sensitive to the water level in your tank and proper installation is essential to ensure the skimmer is working efficiently and effectively. Some testing and tweaking may be required to get the proper configuration for your specific tank.
Pros
Very small – one of few skimmers that can fit into the first chamber of most nano tanks
Highly energy efficient at just 4 watts
Quiet
Easy to mount/dismount and clean
Cons
May require some attention and adjustment for optimal functioning
Some users (including SaltwaterAquariumBlog community members) have had issues with microbubbles
Check out prices for the Hydor SlimSkim on Amazon.
Innovative Marine Skimmate Ghost Protein Skimmer
The Skimmate from Innovative Marine is available in three sizes. Their super-tiny "Desktop" version is designed for tanks of twenty gallons or less, making it one of the smallest nano protein skimmers you'll find anywhere. The slightly beefier "Midsize" model is suitable for tanks of forty gallons or less, which allows it to also find itself at home in many nano tanks.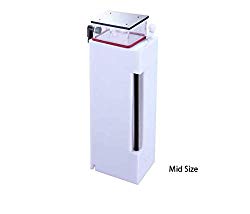 Featuring a very simple design of the skimmer, things like installation and cleaning are no problem.
However, getting the Skimmate under control has given many customers a headache. These nano skimmers can be extremely prone to creating a high volume of micro-bubbles in your tank. Proper configuration can minimize this issue, but even properly installed the Skimmate seems to produce a substantial amount of micro-bubbles in comparison to other nano protein skimmers.
For those who manage to tame the Skimmate, it can really free up some real estate in your tank as the Desktop version is truly one of the smallest protein skimmers on the market. They also run extremely quietly and use just 6.5 watts of electricity.
Pros
Extremely small, minimal footprint
Quiet and energy efficient

 
Cons
Generates a high-volume of micro-bubbles
Can be difficult to properly configure
Check out the Innovative Marine Skimmate Ghost online.
Bubble Magus QQ1 Hang-On Nano Protein Skimmer
The Bubble Magus solves the problem of space by attaching to the frame of your tank and "hanging on," rather than being submerged in the tank. The benefit of this is immediately obvious in that it saves quite a bit of space in your tank, however, it does come with a few drawbacks of its own.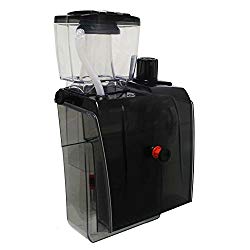 Hang-on nano protein skimmers like the Bubble Magus tend to be louder than their submersed counterparts. Being removed from the tank also makes the protein skimmer pump work a bit harder, and ultimately reduces the efficiency of the protein skimming.
But for most nano tank setups, a properly installed Bubble Magus can do an exceptional job. Designed for tanks up to 25 gallons, the Bubble Magus can be installed on frames 1/2" in thickness or less. Note that since it hangs off the back of the tank, you'll want about 5-6" of clearance behind your tank.
Though it might not skim quite as effectively as some of its submersible competitors, the Bubble Magus is a top choice for those looking to maximize the available space in their nano tank.
Pros
Hang On Back (HOB) design gives maximum space economy
Easy to install and clean
Cons
Noisy
Reduced skimming effectiveness compared to submersed nano protein skimmer designs
Expensive price point
Check out more about the Bubble Magus Hang On Nano Protein Skimmer.
Reef Octopus NS-80 Nano Protein Skimmer
The Reef Octopus NS-80 is another Hang On Back nano protein skimmer which frees up a lot of space in your tank by simply hanging from the frame. In every way, the Reef Octopus is a very bare-bones product. It is suitable for aquariums of up to 20 gallons. Properly installed, it can do a decent job of protein skimming, but is highly sensitive to water level, even more so than other nano skimmers.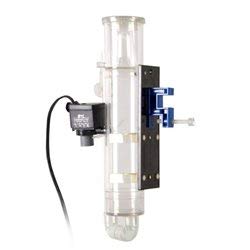 Since the Reef Octopus NS-80 is designed as a "hang on" skimmer, you'll want to leave a few inches of clearance outside of the tank to allow it enough space. As with all hang on skimmers, the NS-80 loses some skimming efficiency and will require the pump to work a bit harder when compared to submersed nano protein skimmer designs.
While the Reef Octopus can perform well if used correctly, it includes no instructions and can require some trial-and-error to optimize performance. It is not the best option for beginners, but if you are familiar with the setup and operation of a protein skimmer, the affordable price tag and tiny footprint of the Reef Octopus NS-80 can make it an attractive option.
Pros
Affordable price
Hang On Back design optimal for saving space
Cons
No instructions
Can be difficult to optimize and control micro-bubbles
Hang On Back design reduces skimming and pump efficiency

 
Do more research on the NS-80 Nano Protein Skimmer
Coralife BioCube Protein Skimmer
This nano protein skimmer from Coralife is designed for use with their BioCube line of nano tanks, however, it can be used in any tank up to 30 gallons. These Coralife skimmers are very small, lightweight, easy to install, and even look fairly attractive compared to many other nano protein skimmers.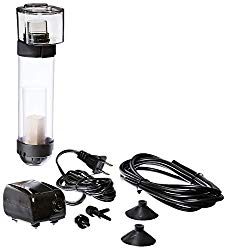 Easily attaching to the walls inside your tank with suction cups and featuring a no-nonsense simple design, setting up and maintaining the Coralife protein skimmer is quite simple. While it is sensitive to water level (like all protein skimmers,) these are generally regarded as simple and well-suited for beginners.
In addition to its simple setup, these nano protein skimmers couldn't be easier to clean. The air pump (which sits outside of the tank and skimmer) is fairly silent. The protein skimmer itself does a good job of minimizing micro-bubbles, but as with all protein skimmers, this may require some adjustments to placement and water level.
Pros
An extremely affordable price point
Easier to configure than some competitors
Attractive, easy-to-clean design
Cons
Somewhat cheaply built
Questionable longevity

 

Reports of needs for constant adjustment to get it dialed in to the right amount of skimmate consistency
Check out the reviews on Amazon.
Fan Favorite
After this post went live, Edward Herbert added that he has had (not so great) experiences with a few of the skimmers in this list. His recommendation is the Icecap K1 Nano. This skimmer has a nice, small footprint:  2.75 in. x 3.2 in.
The total height is 13 inches
Comes with a DCair 200 pump and a magnet mount that will hold in place through 1/2 inch glass.
It also is easy to disassemble and clean.
Edward shares that it was easy to dial in, quiet, and no microbubbles. A true workhorse and brand he can stand by.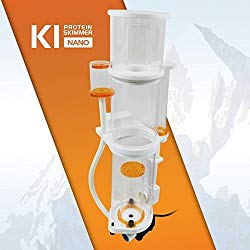 What do you think?
You probably didn't spend a fortune to buy your nano reef tank and you don't need to spend a small fortune (pun intended), to keep the water quality clean. Getting any new protein skimmer set up takes some time and patience.
Have you had any experience with these or any other model? If so, please share your honest feedback below. Just don't bash, please, be helpful, and honest.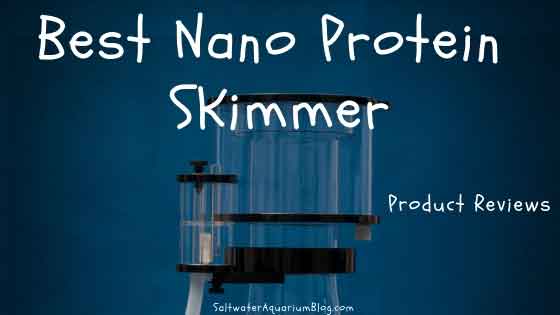 Photo credit: The cover image is based on an original work by Skimz [CC BY-SA 4.0 (//creativecommons.org/licenses/by-sa/4.0)], from Wikimedia Commons
Follow me on Amazon Google + Pinterest and Twitter
Find Big discount for Fish and Aquatic products here