Find Big discount for Fish and Aquatic products here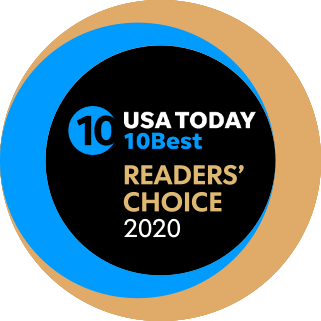 Twenty beautiful aquariums to choose from! Voting for 2020 Readers' Choice for 10 Best Aquariums is underway. USA Today puts together various contests every year and the 2020 contests are ready for voting. The nominees are chosen keeping several criteria in mind such as conservation efforts, the quality of their exhibits, and more. Leave us a comment below telling us which is your favorite aquarium and why. As of the publishing of this article the top 3 on the leader board already changed twice! Make your vote count.
Note from 10Best: Someday, we'll all be ready to pack our suitcases again and head out on our next adventures. In the meantime, we'll keep supporting the places that inspire us. Aquariums put us face to fin with aquatic life from the world's oceans, lakes and waterways in a fun and educational setting. The best aquariums also play a vital role in animal conservation by taking part in rescue efforts and advocating for the environmental health of our oceans. These 20 aquariums, nearly all accredited by the Association of Zoos and Aquariums and nominated by a panel of 10Best experts, represent the best in North America for their high quality exhibits and visitor interactions. Vote once per day for your favorite until voting ends on Monday, July 6 at noon ET. The 10 best winners, chosen by your vote, will be announced on Friday, July 17.
Adventure Aquarium in Camden, NJ
Aquarium of the Pacific in Long Beach, CA
Audubon Aquarium of the Americas in New Orleans, LA
Dallas World Aquarium in Dallas, TX
The Florida Aquarium in Tampa, FL
Georgia Aquarium in Atlanta, GA
Monterey Bay Aquarium in Monterey, CA
Mystic Aquarium in Mystic, CT
National Aquarium in Baltimore, MD
Newport Aquarium in Newport, KY
North Carolina Aquariums with Multiple locations
OdySea Aquarium in Scottsdale, AZ
Oregon Coast Aquarium in Newport, OR
Ripley's Aquarium of The Smokies in Gatlinburg, TN
Shedd Aquarium in Chicago, IL
South Carolina Aquarium in Charlston, SC
Tennessee Aquarium in Chattanooga, TN
Texas State Aquarium in Corpus Christi, TX
Vancouver Aquarium in Vancouver, Canada
Wonders of Wildlife in Springfield, MO
Categories:
  Contest, Reef
Tags:
  adventure aquarium, aquarium of the pacific, best aquarium, dallas world aquarium, Florida aquarium, georgia aquarium, monteray bay aquarium, mystic aquarium, national aquarium, newport aquarium, north carolina aquarium, oregon coast aquarium, readers choice, ripleys aquarium, shedd aquarium, tennessee aquarium, texas state aquarium, usa today, vancouver aquarium, wonders of wildlife aquarium
Find Big discount for Fish and Aquatic products here