Find Big discount for Fish and Aquatic products here
The advice and support you get from your local fish store are worth their weight in gold. But not everyone in the hobby is located in an area with suitable options, Or maybe you're looking for a broader selection of saltwater fish and corals. That means buying saltwater fish online. But with SO MANY potential shops out there, how to choose the best one? You don't want to end up with a sickly fish, coral, invertebrate on your doorstep. Good thing you've popped up this article to find some of the best resources out in the wilds of aquatic cyberspace!
Table of Contents: Buying Saltwater Fish Online
Maybe you already have your go-to sources when it comes to buying saltwater fish online. As long as you're satisfied with the products you receive, you're in the clear. But if you're new to purchasing fish and corals through the mail, the following links can help steer you in the direction of the best sites out there. They provide top quality and have the best policies. (Things CAN go wrong in the shipping process) If you haven't picked out a tank acquisition from an online catalog, you might want to read through everything FIRST. It'll help you avoid a potential problem (to say nothing of saving you some pennies)
Things to Consider When Buying Saltwater Fish Online
When buying saltwater fish online (or corals or other invertebrates), you need to keep a few thoughts in the back of your mind. You're not going to make a quick (or even slightly longer) jaunt home in the car. Depending on where you're located in reference to the store you choose, your fish could undergo quite the journey. And everything related to that travel will impact the health and well-being of your fish and corals.
And – if you've spent ANY time on the internet – you know you need to exercise some caution. Caveat emptor ("let the buyer beware") goes into play when you're buying saltwater fish online. Just because you're picking out live animals doesn't mean you're in the clear when you start entering credit card numbers. A little caution is in order.
So let's look at the biggest considerations.
Pictures
What attracted you to a particular fish, coral, crustacean, or mollusk in the first place? You either spotted one in another aquarium setup, or you spied a picture somewhere. And while a picture MAY be worth a thousand words, you need to take the rose-colored glasses off when you're buying saltwater fish online. Most of the time, the pictures you see are only representatives of the species. They aren't the actual specimen you'll get in the mail. (Some sites WILL specifically clarify that)
So while an image may LOOK like a full-sized coral colony or an adult fish, the actual delivery probably won't match. It isn't false advertising (juveniles DO grow into their adult forms eventually, and corals grow under proper conditions). But you need to prepare yourself. If you want exactly what you see in an image, look for a WYSIWYG on the listing. A big mouthful, but it stands for "What you see is what you get." This means the photo IS the fish or coral they're selling.
When buying saltwater fish online, your other option is to ASK for a picture of the specimen they're selling. Then you'll get to see your fish ahead of time and know what to expect. Reputable sellers won't have a problem with this request.
Shipping Costs
As you should expect when buying saltwater fish online, you need to pay to ship your purchase. And there's no option for "standard" shipping when you're dealing with live animals. You need to ship overnight, and that's expensive. Plan to add $50-$75 to the cost of your purchase price.
Now, most online saltwater fish and coral stores know that shipping price is a brute. The best sellers offer FREE SHIPPING when you exceed a minimum order amount. It's a great deal, but you usually need to order somewhere around $150-$250. Not exactly a trivial sum. It's also a lot of livestock in your tank at once (depending on the fish and coral species you purchase). You don't want to throw your aquarium's cycle off to save on shipping.
One way to capitalize on free shipping (without blowing your budget or biological filter) is to connect with fellow hobbyists in your area and place a group order. With a group buy, you'll easily exceed the minimum to secure free shipping and get the one or two species you were the most interested in. Then you pick one person's address to set for the shipping, and they call everyone when the delivery arrives.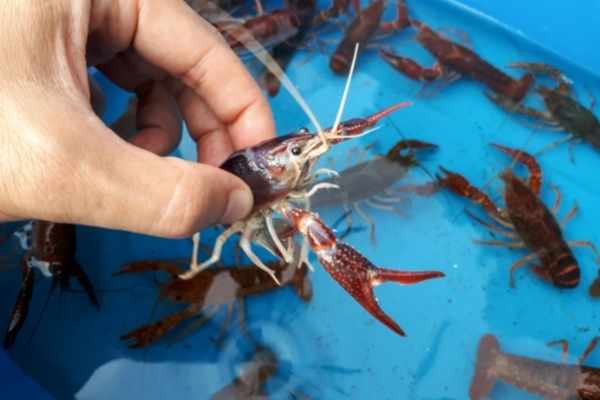 Acclimation
Shipping a live animal in a box is one of the most stressful things you can do. (You know, beyond capturing it and extracting it from its home) And since there's no way around that stress when your buying saltwater fish online (they can't Uber), you need to anticipate a traumatized fish hitting your doorstep.  That means spending time carefully acclimating fish and corals online to life in your aquarium.
The acclimation process starts by making sure you're HOME for the delivery. It's challenging if you work a traditional 9-5 job, but you need to make arrangements if that's the case. The WORST thing you can do is leave a fish or coral in a box out in the elements on your porch. The packaging's insulated, but not enough to protect the animal for long periods. As hours tick away, you're risking the loss of that fish.
The next thing you need to consider is gradually acclimating them to light. Sounds weird (especially if you're buying saltwater fish online that are nocturnal), but think about it. They spent the night in a pitch-black box. You don't want to throw the lid open and shock those fishy retinas. As excited as you are to examine them, make the box opening a gradual process. (You can edit your Instagram reels or TikTok videos to make the process look quick and seamless) Then you can move on in your acclimation process.
Most reputable online stores have recommended acclimation procedures. Read the process for your store before placing your order. That way, you'll be ready when your fish or corals arrive. Not only will this protect the health and well-being of the animals you ordered, but it will also ensure you'll end up covered by any warranty the store provides. Many warranty programs require you to follow specific acclimation steps. If you miss one, you void that warranty.
You also need to contact them immediately after receiving the package if you notice a specimen is dead on arrival. No one wants that scenario, but it's a sad possibility when your buying saltwater fish online. They know when those boxes get delivered, and if you wait hours and hours to call them? Yeah, they're not going to refund or replace your order.
Buying Corals Online
Corals are some of the most popular purchases made from online stores. You can pick up frags and colonies of any size. And if you're looking for some of the more exotic color options out there, online retailers are your best option. You can always talk with other hobbyists in your area to exchange frags, but you may not find the species or shades you're looking for. That's where these online sources come in handy.
Cherry Corals
Cherry Corals is pure eye candy for the reef aquarium enthusiast. You don't want to check it while you're at work, though, or you may lose track of time and miss your next meeting. (I'm just trying to warn you ahead of time) Their mantra is, "If it's not HOT, it's not here!" You won't find garden variety soft corals on their site. Nope. They specialize in – well, cherry corals. You'll find a variety of SPS corals, LPS corals, zoas and palys, mushrooms and ricordea, and anemones.
But if you're in the mood for something new and unique (and you have the extra money in your pocket), check out their page of "Fresh Cherries." And if you want to see what they have in stock, check out their Facebook page. They update that page first, several times a week.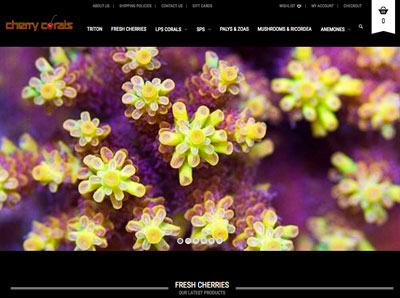 Cherry Corals is based in Michigan. They guarantee their shipments will arrive alive, or they'll credit you for the lost coral.
Jason Fox Coral
Jason Fox Coral is the online store for the reef keeper with the same name. Jason's been keeping corals since 1996, and he has a collection of amazing corals. You'll find a fantastic variety of SPS, LPS, and zoanthid corals on the site with names like the Jason Fox Aquaman, the Jason Fox Atomic Sunrise, or the Jason Fox Bubble Buster. Looking for something exclusive? Check out the WYSIWYG Page.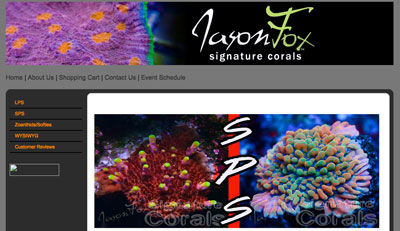 Jason Fox Coral is located in Maryland. They offer an "Arrive Alive" guarantee and provide a credit for any coral dead on arrival – as long as you contact them within ONE HOUR of receiving the box. That means you need to get unpacking FAST! (It seems a bit narrow of a window to me, but what do I know) You'll also find Jason Fox Coral at aquarium shows and frag swaps.
Tidal Gardens
Tidal Gardens is a coral propagation (aquaculture) company located in Ohio. They carry a complete line of corals (not just the hot corals), including SPS, LPS, zoanthids, mushrooms, gorgonians, clams, anemones, soft corals, and more. Than Thein started Tidal Gardens in 2005, and he documents EVERYTHING the company does. (For instance, check out their Blog!) In addition to providing fantastic livestock, Tidal Gardens also produces one of my favorite YouTube Channels.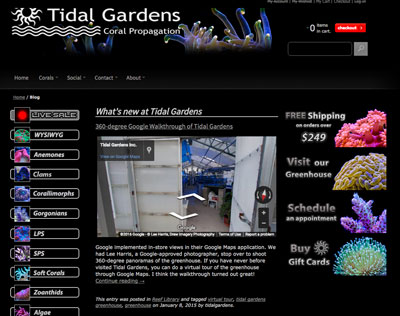 Tidal Gardens offers a 7-day guarantee on their corals (unless you spring for one of their "expert only" options). And if your coral doesn't survive (or shows up on the door dead), they'll replace it, refund your money, or provide a gift card. It's one of the better guarantees out there if you're buying corals online.
Buying Saltwater Fish Online
If you're interested in buying saltwater fish online, you'll find THOUSANDS of options. I could go on and on. But I've decided to narrow the list to a few popular choices. When you look into a seller, always hunt down their policy on returns and fish that arrive "belly-up." You want to make sure you're taking precautions for the worst. Then you know what you're getting yourself in for.
Incidentally, these sources for buying saltwater fish online also carry corals and invertebrates. So you can do one-stop shopping!
Blue Zoo Aquatics
Blue Zoo Aquatics started in 2001 as a custom aquarium design and maintenance company. Naturally, anyone who orders a custom aquarium wants to fill it with excellent fish. So, out of that need, Blue Zoo Aquatics started carrying fish, coral, and invertebrates. And they've turned into one of the most popular sites for buying saltwater fish online. You'll find every popular fish category you could imagine – including captive-bred options.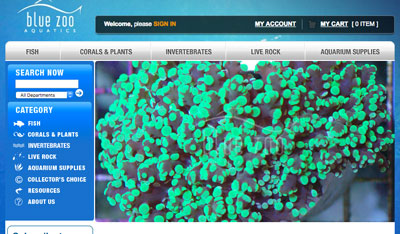 Based in California, Blue Zoo Aquatics offers an "Arrive Alive" guarantee on some of their species. For the rest, you get a 7-day live guarantee. (Make sure you read the details on the fish you're interested in) The seven-day count starts the day your fish SHIPS, though, so mark your calendar when you get your confirmation email. You also need to notify them about DOAs within ONE HOUR of delivery, or you won't see a refund or credit.
LiveAquaria
LiveAquaria is one of the best names when it comes to buying saltwater fish online. They've been around for years, have an excellent track record, and are renowned for the way they select and acclimate their fish. You can't go wrong here. This site offers a great selection of aquacultured fish and corals and wild-caught fish. They also include a helpful saltwater fish compatibility chart for all of the species they sell!. And if you're looking for a one-of-a-kind specimen, check out the Diver's Den for the latest WYSIWYG corals.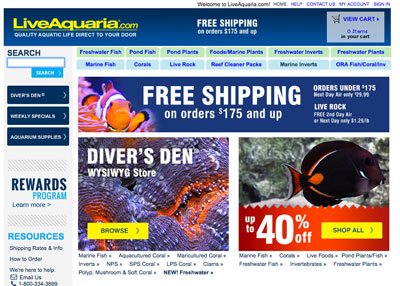 LiveAquaria is based in Wisconsin. And the best part about buying saltwater fish online from LiveAquaria is their guarantee. All purchases will arrive alive and stay alive for FOURTEEN DAYS, or they'll credit your account or refund your money. That allows you to buy with complete confidence. Furthermore, if you purchase a certified captive-bred coral, you get a 30-day extended guarantee! That's hard to beat!
ThatFishPlace
ThatFishPlace started in 1973 as a small aquarium store in Lancaster, Pennsylvania. But the operation has grown significantly over the years. For other eastern Pennsylvania residents and me, ThatFishPlace is an attractive local fish store with a giant fish room. And for those of you who live beyond a reasonable driving radius (most likely YOU), they're a fantastic spot for buying saltwater fish online.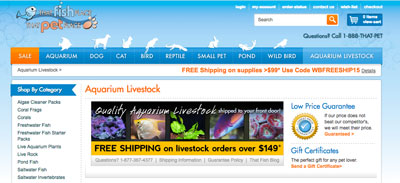 If you order saltwater fish or corals from ThatFishPlace, you're covered by their 14-day guarantee (as long as the fish isn't on their restricted species list). The only downside is that the restricted species list is pretty extensive, but it's better than NO guarantee.
Buying Saltwater Invertebrates Online
Buying saltwater fish online often leads to purchasing other animals for your tank. And while you can usually find crustaceans and mollusks at the same retailers, sometimes you're interested in a special invertebrate. That's where these sellers come in handy. They specialize in centerpieces (or fun species) that make the perfect additions to your aquarium.
Clams: Pacific East Aquaculture
If you're looking for a centerpiece clam to spice up your tank, the biggest name in aquaculture is Pacific East Aquaculture. They've been around since 2000 and have an excellent reputation for great clams (and corals) and customer service. They're based in Maryland and boast that they're "a short drive (less than 2 hours) from Baltimore, Washington, D.C., and Philadelphia." They're also a fantastic resource for buying saltwater fish online (or corals).

Pacific East Aquaculture offers a live arrival guarantee. You get three hours to notify them if something doesn't survive the shipping process, and then they'll refund your money. And if you spend over $1000 (Hey, it could happen!), you get special security on your shipping.
Nudibranchs
Who doesn't love sea hares? They're curious nudibranchs that make the perfect addition to a saltwater aquarium. Or maybe you're battling an Aiptasia infestation. If that's the case, you may be interested in ordering Berghia nudibranchs to fight the infestation naturally. Either way, buying saltwater fish online may not provide you with the best source for these squishy invertebrates. You need to look for specialists in the retail field. Good thing I've got a couple for you!
ReefTown
Your first option for Berghia is ReefTown. They supply nothing but those Aiptasia eradication machines. (Helpful if you want the nudibranchs, but not as much if you're looking at that free shipping maximum of $200) Of course, it also means you won't get distracted with thoughts of buying saltwater fish online when you pop over to their site. So there's some balance there.
ReefTown works a little differently than some online retailers. They box up your nudibranchs on Wednesdays for Next Day Air. And you need to notify them within TWO HOURS if you have any dead arrivals. They're located in Florida.
Salty Underground
Salty Underground provides plenty of options for buying saltwater fish online. And they're one of the top resources when it comes to Berghia nudibranchs. (In fact, the little guys get their own blocks on the menu!) You can choose from different sizes (depending on the size of your Aiptasia problem) or even egg spirals. They've been working with Berghia for over TWENTY YEARS, earning the title of the longest online retailer in the business. (So you know you can trust them)
Operating out of Missouri, they offer a guaranteed live arrival. And you have a 14-day money-back guarantee on top of that.
Buying Live Cultures Online: Reed Mariculture, Inc.
Sometimes you need live cultures of phytoplankton, rotifers, copepods, or mysid shrimp for all of those fish and invertebrates you're buying online. You can continue to grow your own in a refugium once you get started, but you need a healthy batch first. And one of the best sources online is Reed Mariculture, Inc. A California-based company, they're one of the largest providers of microalgae concentrates and other related products. Buying saltwater fish online can lead to specialized diets, and these guys provide all of the resources you need!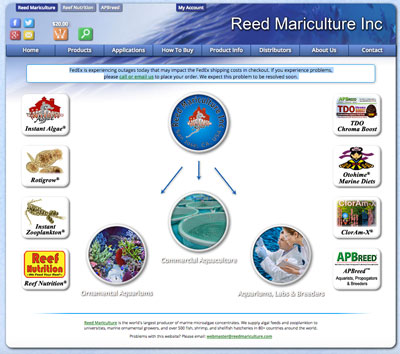 Depending on the size of your order, you may need to contact the company directly to get a quote on pricing. And you may need to place advanced notice if you're ordering large batches (in the billions range) of rotifers. Of course, that's not typical for hobbyists. Otherwise, they ship out the same day. Any refunds can get handled with their friendly customer service. (Let's face it – are you going to break out a microscope and check EVERY pod or rotifer for signs of life? No, you're not)
For More Information
Buying saltwater fish online runs a risk. You need to ensure you read ALL of the fine print involved. And you have to consider the additional shipping risks and costs. It isn't for the unaware (or ill-prepared). But if you can't find a specific fish, coral, or invertebrate at your local fish store, those online resources are your best bet. So let's make sure you have all the information you need to proceed with your internet searching.
For instance, how about a YouTube video showing one experience with buying saltwater fish online:
You can also look at other reputable sources when you start buying saltwater fish online:
Conclusion
Hopefully, you found this list of sources for buying saltwater fish online helpful. It's by no means an exhaustive list. Stores pop up and, unfortunately, disappear with regularity. My goal is to point you in the direction of some of the most established, tried and true online resources to help you start your journey. Then you can consider getting fish and corals shipped to your doorstep. As long as you're prepared to meet them as soon as the box arrives.
Find Big discount for Fish and Aquatic products here