Find Big discount for Fish and Aquatic products here
Whether you've seen them in somebody's living room or in the fish tank in your dentist's waiting room, betta fish are well known for their bright, vibrant colors and their tales which resemble flared ball gowns.
While betta fish can survive in most environments, there are certain measures you can take to prolong their life. Selecting the right sized tank with a proper heating and filtering system is essential.
Note: The average lifespan of a betta is around 3 years, but with proper care, your fish may stay alive for around 4 years or more!
The Ideal Temperature for a Betta Fish Tank
Betta fish thrive in warm water and tropical climate. The temperature in your house constantly fluctuates based on the local climate and due to artificial heating and cooling systems you may have installed.
Bettas thrive in water which is between 78-80 degrees. They can still survive if the temperature is a few degrees above or below this, but their lifespan will be considerably shorter. Even within this range, it is vital to keep the temperature relatively constant because frequent fluctuations will stress out the betta.
Getting a tank heater for you betta fish will keep the water temperature constant, but it is important to get the right heater. Some heaters look amazing in their advertisements but are unable to regulate the water temperature in reality. Others are too expensive and not worth it, especially if you have single betta fish.
So how exactly do you choose the best betta fish heater for your tank?
Preview
Best for Small Tanks
Best Nano Tank Heater
Best for Large Tanks
Best All-round Tank Heater
Product
Fluval Marina Mini Heater
Marina Mini Betta Submersible Heater
Hygger Submersible Aquarium Heater
Best for Small Tanks
Preview
Product
Fluval Marina Mini Heater
Best Nano Tank Heater
Preview
Product
Marina Mini Betta Submersible Heater
Best for Large Tanks
Preview
Best All-round Tank Heater
Preview
Product
Hygger Submersible Aquarium Heater
What to Look for in a Betta Water Tank
Here are all the factors you need to look at when getting a betta tank.
The Right Power Based on the Tank Size
The Wattage of your tank should be sufficient to heat the entire tank consistently. Ideally, the tank heater should provide around 4 watts per gallon of water.
If your tank is very large, it's a good idea to attach to small heaters for even heating. For instance, with a 10-gallon heater, you can attach two 20 watt heaters at opposite ends of the tank.
Adjustability
Tank heaters may fall one of the following two categories:
There is a fixed temperature which can never be changed
The temperature is variable and can be adjusted
Normally, the lower cost tanks are likely to have a preset temperature. This can be inconvenient if you want to adjust the tank temperature to account for changes in the weather.
Ease of Use
Here, you need to consider how easy it is to understand the temperature scale and the overall functioning of the tank heater.
Reading the Temperature
Being able to read the temperature scale of your tank is necessary if you want to make adjustments. If you want to keep your tank at a specific temperature, you need to be able to read the scale easily.
It is important to note that the temperature scale of the tank may not be a hundred percent accurate. For greater accuracy, you can get a thermometer for your tank to double-check the temperature of the water.
Overall Use of the Betta Tank Heater
Keep in mind that the tank heater will be completely submerged in the water so the design should be such that you can use it easily even then. Heaters with large knobs are ideal.
Most heaters will have either suction cups to attach them to the tank wall or a hanging mechanism to submerge them in the water.
Safety First
Make sure that you read the fine print to ensure that the heater is safe enough to be completely submerged in the water. If it's not and you didn't check in advance, you are at risk of getting electrocuted when handling the heater in the tank.
The heater should have a fail-safe mechanism which makes it turn off if the water level is below the heater.
The better the quality of the tank heater, the more resistant it will be to damage. Choose wisely so that your heater is strong enough to withstand a few falls or electric currents.
The heater should be insulated or have a protective coating of some sort to prevent your fish from getting hurt if they accidentally bump into the heater. The whole point of the heater is to give your fish a better space to live, not to kill them.
Top Picks for Betta Fish Tank Heaters 
Here is a list of the best tank heaters for bettas.
Best Betta Fish Heater for Small Tanks – Fluval Marina Mini
Why it's Great 
The Fluval Marina Mini is perfect for tanks between 5-10 gallons.
This small heater is a steal at only USD 15
It is adjustable with a temperature range of 65 to 93 degrees
Don't let the size fool you. It offers a fantastic 25 Watt variant for smaller tanks and a 50 Watt variant for larger ones.
It can be attached inside your tank with its suction cups and the size makes it suitable for tanks of any shape and structure.
What You Need to Look Out For
The tank has received mixed feedback in terms of the actual use. There have been complaints of it heating up the water past the temperature it was set at and vice versa.
There are also some discrepancies in the size mentioned and the actual size of the heater so check the size of your tank and see if the heater will fit before actually buying it.
Make sure that the tank you buy is completely sealed and get it exchanged if the seal is broken from before.
Best Betta Fish Heater for Nano Tanks – Marina Mini Betta Heater
This one is suitable if you have a mini tank with a single betta fish.
Why it's Great
This tank heater is ideal for people who have busy schedules and are likely to forget to check the temperature of the tank. It has a fixed temperature of 79 degrees so you can just attach it in your tank and forget about it.
Even if the outside temperature changes, the heater will regulate the water temperature on its own.
The tank is submersible so you don't run the risk of getting an electric current.
It has a power of 8 Watts and is ideal for small tanks of around 1-1.5 gallons (tanks smaller than 1 gallon are harmful to betta fish)
At USD 10, it's suitable for people keeping a single betta fish in their home.
What You Need to Look Out For
Different bettas are comfortable with different water temperatures. With this one, you only have a single temperature setting so there is a chance your betta fish may not be too comfortable (which will consequently affect its longevity). In fact, for small tanks, the heater can often heat the water too much and may kill your fish.
The heater might get too hot and damage your tank so you might need to slip on an insulating cover on the heater or get a bigger tank.
Overall, this heater is fine for a tank of around 1.5 to 2 gallons. Anything smaller and it is likely to overheat the water and affect your betta's health.
Best Betta Fish Heater for Large Tanks – EHEIM Jager Aquarium Thermostat Heater
The EHEIM offers a number of variants suitable for different sized tanks.
Why it's Great
There are many options available with power ranging between 25 and 300 Watts. It is suitable for different tanks up to at least a hundred gallons.
It's highly sensitive so if the water level drops below the required level, it'll shut off automatically.
The temperature is adjustable within a range of 65 and 93 degrees. This makes it suitable for places with hot or cold climates. The knob is located towards the top edge so if you want to adjust it, you don't have to completely submerge your hand in the water.
It is shock and shatter-proof and is highly durable.
It offers great value for money with the highest power model (300 Watts) priced at USD 30.
The temperature dial has high readability and can be used to easily adjust the temperature. Temperature increments are in the form of 0.5 degrees.
If at any time the heater stops working, a light will go off in the heater signaling that something is wrong.
What You Need to Look Out For
There have been complaints that the tank tends to overheat to the extent that its wiring may start or melt or the water may get too hot and kill the fish.
If you do end up getting an EHEIM heater, it is ideal to keep an eye on the water temperature and maybe use a thermometer as well just as a precaution to avoid overheating.
Best Betta Fish Multipurpose Heater – Hygger Submersible Fish Tank Heater
This one is similar to the EHEIM Jager in the sense that it offers many variants that are suitable for different sized tanks.
Why it's Great
There are different options available ranging between 50-300 Watts. They are ideal for tanks with a capacity of around 10 to 60 gallons.
The temperature is adjustable within a range of 75 to 91 degrees.
It is budget-friendly with a price of around USD 15.
The temperature adjustment knob is on the power cord and not on the heater itself which means you can adjust the temperature without getting your hands dirty.
It has suction cups that help keep it in place in the tank and it is also shock and shatter-proof.
It has a sleek design with a faux crystal look and a black webbed protective coating that will look great inside any tank.
What You Need to Look Out For
The adjustment knob is small and fiddly and difficult to adjust. Increments are by 2 degrees. An additional thermometer may be required for accurate temperature settings.
The lowest temperature it can go to is 75 degrees. The lowest preferred temperature for betta fish is 74 degrees so this heater may not be suitable for all types of bettas.
The heater doesn't shut off in case of overheating or lowered water levels so you will constantly need to check that it is stable.
As with most heaters, this one runs the risk of overheating and killing your fish. The fact that it doesn't have an automatic shutting off system or an emergency light means that you can't just turn it on and leave it. You have to keep an eye on it to avoid any disasters.
Only the Best for Your Betta Fish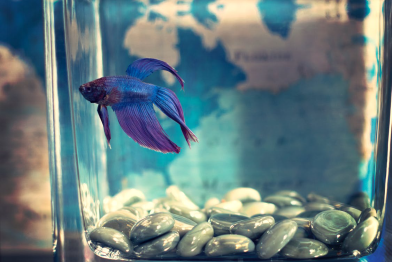 These small, vibrant fish can make your home or office look inviting and comforting. Bettas will keep you company for a few years if you take care of them properly, so it's okay to splurge on a good quality water heater to keep them happy.
We've covered a wide range of betta tank heaters for tanks of all sizes so you have plenty of options to choose from. Make sure to choose the best betta fish heater for your particular situation.
Find Big discount for Fish and Aquatic products here