Find Big discount for Fish and Aquatic products here
ReefEco Launches the StinkSink, a Skimmer Odor Carbon Filter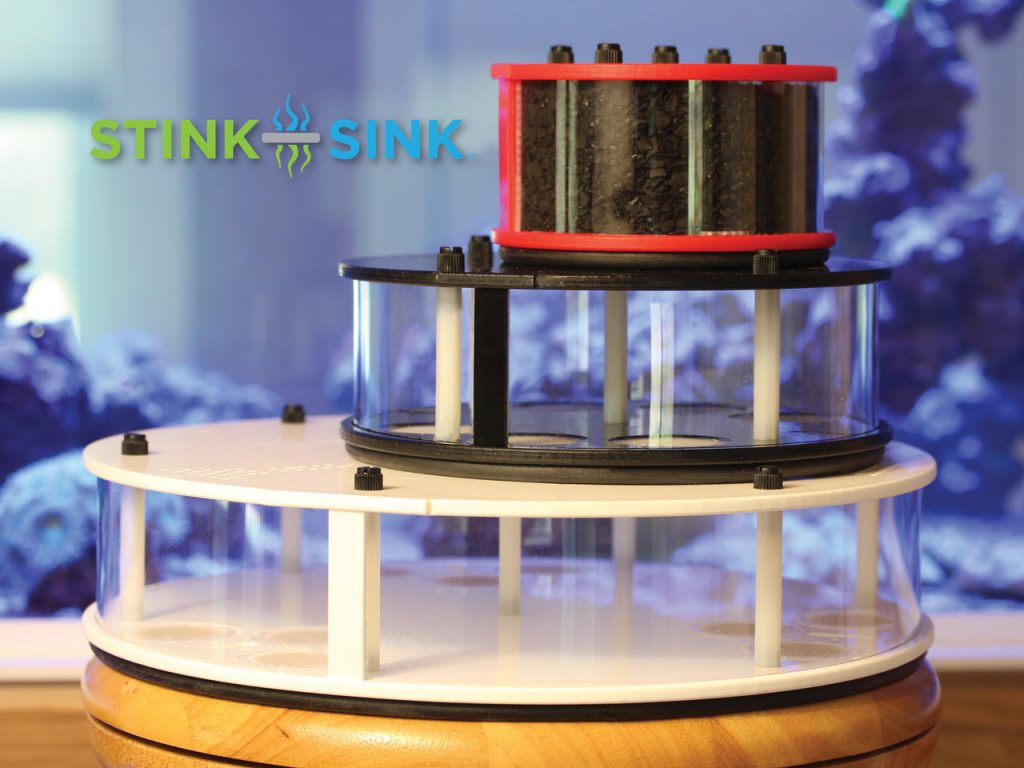 Most of us aquarists at some point have experienced the waft of fish poop from our tank stand, conveniently reaching its apex just when guests stop by for a visit – or the stink bomb from an opened cabinet because we just can't get to emptying and cleaning the skimmer cup in time. Skimmer stink can effect everyone who is around our tanks.
The StinkSink aims to be an improvement over what has typically been a DIY solution to address skimmer stink, and is a made-to-order custom vessel containing coconut carbon to filter skimmer exhaust. The StinkSink is guaranteed to reduce the stink from your skimmer. Each unit is sized specifically for your skimmer brand and model in a choice of colors, is precision CNC cut from cast acrylic and polycarbonate, and made in the USA.
Sitting on top of your skimmer lid, the patent-pending StinkSink design includes a closed cell foam o-ring which traps and forces all skimmer exhaust through the carbon media. After extensive testing, including with local hobbyists, we chose coconut carbon for its sustainability, lower dust content, affordability, and a particular particle size that provides good filtration without adding back pressure to your skimmer. Each StinkSink has an air hole pattern specific to that skimmer model, ensuring stink laden exhaust travels through the most carbon possible. Most models also have adjustable alignment pins that make removing and replacing your StinkStink for skimmer maintenance quick and easy, while helping prevent knocking off the StinkSink when you inevitably bump your skimmer during sump maintenance.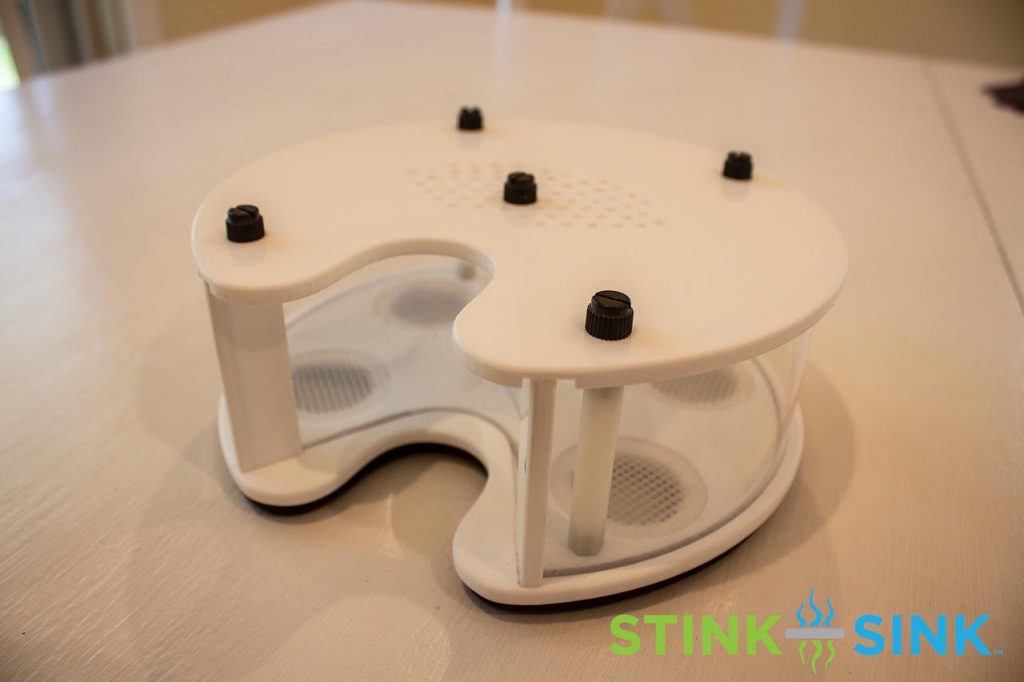 The initial design of the StinkSink is compatible with the most common skimmer design – those with a flat lid and standard hole pattern. We have also just developed a new design to accommodate lid-mounted cup level sensors that are included in some DC-pump powered skimmers. Compatibility for some skimmer brands that have thumbscrews or non-flat lids may also be tackled in the future.
While not specifically tested for ozone, filtering ozone with carbon is a well-known methodology, and many are finding a bonus application if they inject ozone into their skimmer. The main components of the StinkSink, its cast acrylic and polycarbonate vessel, and EPDM o-ring, will stand up well to ozone. Replacement sets of nylon hardware will be available should ozone effect this less resistant material, and special ozone resistant hardware sets made from polycarbonate may be available for purchase in the future for those employing ozone.
ReefEco reached out to skimmer manufacturers for their precise skimmer lid dimensions, and many companies supplied them. Those hobbyists not finding their skimmer model at reefeco.com can submit their skimmer model and lid dimensions through the site and receive 25% off for being the first to request that model. It takes just a few minutes to adjust CNC files for a new skimmer model.
The StinkSink is the first of several planned products from ReefEco, a designer, maker and hobbyist, and is available at reefeco.com.
___________
ReefEco (Peter) has been an avid reef enthusiast for more than 20 years, and worked in education at the Steinhart Aquarium before choosing a career path in design. Like many hobbyists who sell coral or reefing solutions, ReefEco hopes to bring some new products to hobbyists that make it easier to maintain and enjoy our tanks. ReefEco recently setup his 900 gallon dream system, which includes a 400 gallon display, 100 gallon garden eel tank, 3 frag tanks, and dedicated fish room. Dozens of videos documenting the build can be found on his Reef2Reef build thread, or at www.youtube.com/c/ReefEco. 
Find Big discount for Fish and Aquatic products here