Find Big discount for Fish and Aquatic products here
While diving out the incredibly reach inner reefs of Southern Great Barrier Reef with Nic from Ultra Coral Australia, we found yet another insane piece of Acro… 
The crazy thing with this Dragon Fruit Acro, is that it harbors the two colors that pop up the best under blue LED, the out of this world bright red/pink of the coral itself and the insanely bright fluorescent green of the tentacles. If this wasn't enough; tentacle and tips are purple, which add another layer of contrast to it.
This tabulate Acropora that can grow to sif feet/two meters wide, has highly fused basal branches, with irregular upright branchlets. Axial corallite are tubular, while radial corallites are immersed on the older part of the colony and become tubular with nariform openings toward the tips. It looks like a flattened form of A. divaricata.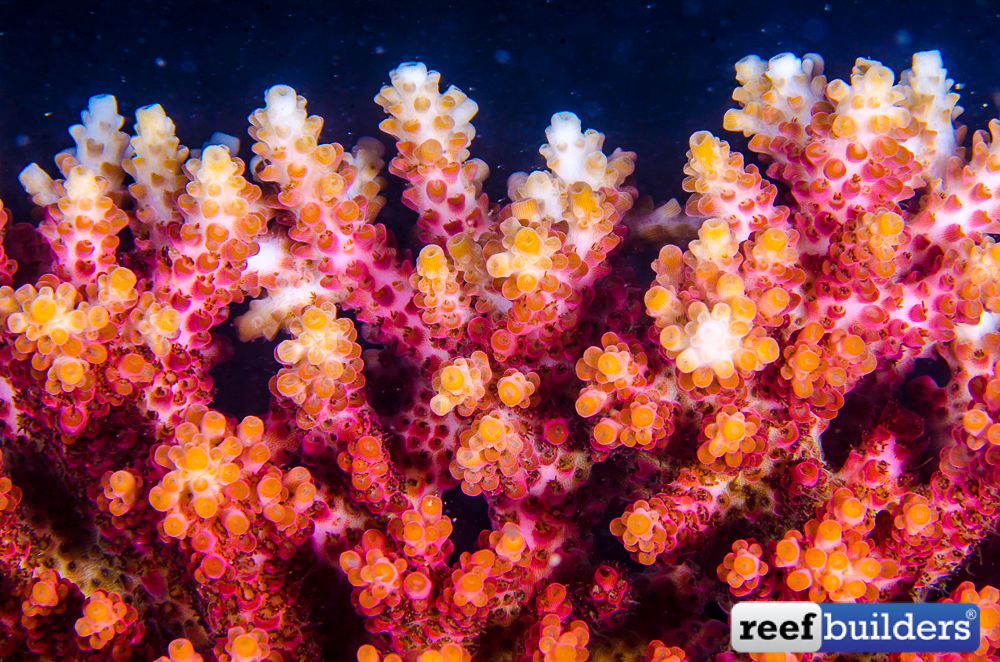 From Indonesia we used to have a very similar form but the color were not nearly as bright as this neon glowing one. This one is really one of a kind, and UCA is going to culture it. But still managed to ship out a couple of small pieces to Unique Coral in the US, so the strain is secured and get cultivated in multiple places. We don't know if it's the inshore high nutriments waters that give this coral its color, if it's from genetic origin or both that give this coral this insane coloration.
One fact about this species is that in inshore reefs, it's always infected with acro eating flatworms. A simple hand swing over the colony creates a rain of small little flatworms going out with the flow. But Ultra Coral Australia got the right answer for that, all their acros, receive an in house dipping treatment to kill these nasty parasites.
Then all corals are inspected in a specially designed white container to see if any are left behind. Finally, all the pieces of rock attached to the colony are cut off, so any egg left behind is also removed. The whole procedure protocol has been designed by a young American acro flatworm specialist soon to be PhD, called Jonathan Barton under the supervision of Dr. Ciemon Caballes.
So these corals are certified acro eating flat worms free. This level of commitment is quite unique in the industry, and translates the passion that these guys put into their corals.We are pretty sure that this particular coral is a fast grower and will respond very well to propagation, so frags should be available very soon all around the world!
Find Big discount for Fish and Aquatic products here