Find Big discount for Fish and Aquatic products here
Filters are a quintessential part of your aquarium, be it for 10-gallons or 100. Not only does it get rid of the toxic waste, but it also keeps the water circulating. With so many different types of aquariums and fish tanks in the market, the 30-55 gallon tank is a standard purchase for several homes. They are convenient, easy to keep, and ideal for community tank setups.
However, with a larger capacity comes more responsibility. You want to ensure that your tank has enough devices to mimic the natural habitat of the fish species. If we had to pick one, the Tetra Whisper EX Silent Multi-Stage Power Filter is pretty much a staple in every home.
For someone with prior experience in handling fish tanks and aquariums, we wanted to check all the best options. Our objective is to sort out a list of viable, high in quality, and obviously, easy on the pocket.
This article will walk you through a list of the top quiet filters for a fish tank that you can consider buying.
Here Are the Best Quiet Filter For A Fish Tank – Tried & Tested
1. Tetra Whisper EX Silent Multi-Stage Power Filter for Aquariums
Let us kick off the list with a personal favorite. This is your best bet if you are particularly looking for a quiet aquarium filter that won't put you off. Besides the sleek design and modern features, the aquarium filter is also pretty affordable.
Besides the whisper-quiet feature, the filter is also pretty powerful. The suction power of the filter with consistent water circulation keeps the tank clean and less toxic. Also, the filter supports multi-stage filtration, which is always a benefit.
Ideal for beginners, the filter comes pre-packaged and is easy to install. The instructions are mentioned in the package. So, all you have to do is follow them. Setting it up and cleaning it in intervals is not that complicated at all.
Despite the waste and debris build-up, the filter keeps the water moving consistently in the tank. Also, the constant water movement prevents the debris build-up in the tank to an extent. The insides are integrated with filter cartridges too. They are removable and easy to clean.
The versatile functions of this aquarium filter are ideal for tanks with a capacity between 45-70 gallons. Also, the no-mess cartridge makes cleaning and replacement easy rid.
Price – $29.72
Key Specifications:
Designed with Whisper-Quiet technology
Integrated with No-mess Cartridges
Ideal for 45-70 gallons fish tanks
Pros
It doesn't produce noise when functioning
Keeps the toxicity in check
Easy to install and set-up
Cons
It doesn't work in tanks with shallow water levels
2. AquaClear Fish Tank Filter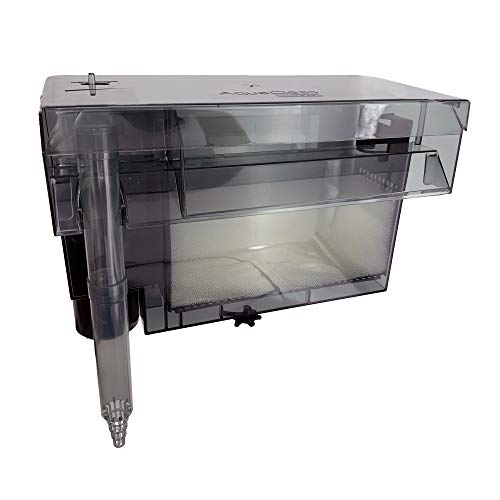 It is not every day that you come across a quiet yet popular aquarium filter under $100. The AquaClear Fish Tank Filter is a pretty great pick, especially for the aquarists that upgrade their tanks quite frequently.
Besides the low-noise production, the device is backed with an optimal aquarium filtration system. This is a HOB filter that is easy to set up and install. The usage of this filter makes it a popular choice among beginners with no prior experience.
The filtration system offers the ultimate contact time with the combined filter media. It is energy-efficient, so your device won't bring you longer power bills. This reduces the operating costs without affecting your bank balance drastically.
The ease of usage and the open design makes the cleaning process easier too. Typically, you need to clean the tank every two weeks. Cleaning the cartridge and the parts of the filter is necessary to ensure optimal efficiency.
The insides of this tank filter are integrated with the AquaClear Foam and carbon filter with cycle guard for better water quality. The filtration volume of the tank supports 7x better capacity than most of the staple options available in the market.
The product is backed by a lifetime warranty. Also, it is compatible with tanks with a capacity between 55-110 gallons. With the reduced flow rate in the filter, 50% of the water is filtered multiple times to wash out maximum impurities from the tank.
The best feature of this filter is the quiet function. This is your best bet if you have an aquarium in the living room and don't want too much noise. Also, the filter doesn't need priming, especially during a power outage for optimal functioning.
Price: $84.62
Key Specifications:
Integrated with Aquarium filtration system for better filtration
Needs to be cleaned every 2 weeks
Supports mechanical, chemical and biological filtration
Integrated with AquaClear foam, carbon filter and bio max
Backed with lifetime warranty
Pros
Ideal for beginner aquarists
Easy to maintain and clean
Customized multi-stage filtration
Powerful motors
Cons
3. Aqueon QuietFlow LED PRO Aquarium Power Filter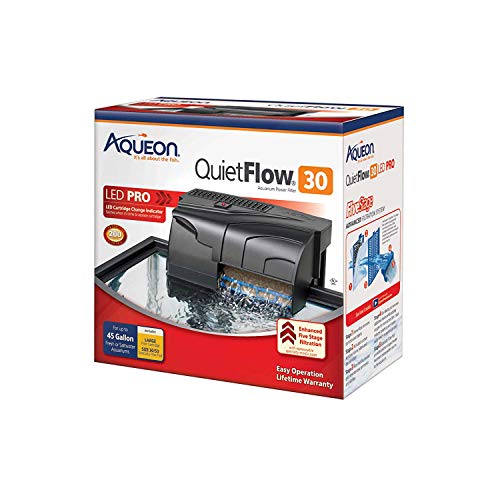 Just the name of this filter is enough to understand how efficient it is. Besides the quieter operation, the Aqueon QuietFlow LED PRO Aquarium Power Filter is highly powerful too. This is your best bet if you are looking for an affordable yet high-quality filter for your aquarium.
The powerful filter is designed to provide mechanical, chemical, and biological filtration optimally. Pair that with the Aqueon specialty filter pads for quicker filtration and efficient management. The self-priming design offers optimal maintenance even when the power is out.
This is one of the few aquarium filters that offer certified flow rates. So, if you are worried about proper water circulation in the tank with quicker outflow, this filter takes care of the same.
One of the unique features of this filter is the LED indicator light. The light flashes and alerts when the cartridges need to be changed. It allows you to monitor the water levels without any delays and complications.
Also, the internal pump design reduces the risks of leaks and keeps the noise to a bare minimum. It comes with a replaceable carbon cartridge with proper cleaning. The installation process is pretty quick too, and safe for beginners to try out.
The hang-on design clings to the back of the tank easily. Just make sure that you hang it a few inches above the water level for maximum efficiency and circulation. It is ideal for a 30-60 gallons tank but comes with limited flow rates.
Price: $31.49
Key Specifications:
Supports mechanical, chemical, and biological filtration
Designed with LED cartridge change indicator
Backed with a 5-stage filtration system
Self-priming motor for efficient performance
Pros
Easy installation process
Certified flow rates
Designed for internal pump filtration
Self-priming works even when the power is out
Cons
Lacks multiple flow rate functions
4. Cascade Canister Filter for Large Aquariums and Fish Tanks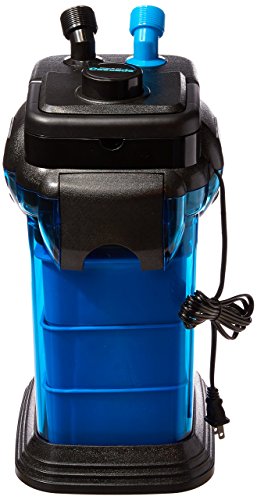 Canister filters have taken a backseat, especially due to their large size. However, since we are focused on 55-gallons tank capacity in this article, the Cascade Canister Filter for Large Aquariums and Fish Tanks was worth mentioning.
This versatile filter is ideal for freshwater and marine water aquariums. The 265 GPH motor is not just powerful but extremely efficient too. The high-end design and powerful functions make this an ideal choice for up to 100 gallons of tank capacity.
The best feature of this tank is the 360-degrees flow valves for enhanced flexibility. The larger capacity media baskets clean more water in less time, so your fish never feels devoid. The push-button primer in the tank comes in handy when the power suddenly runs out.
Besides the practical design, the insides are integrated with a spray bar and tubing for the ultimate support. Also, the filter medium is replaceable inside the filter, which is a benefit. The insides can be fitted with one or multiple filtration media. This can include a floss pad or even a course sponge.
As with most filters, even this one supports mechanical, chemical, and biological filtration. The silent aquarium filter is extremely quiet and ensures optimal performance and cleaning. The heavy-duty external filtration system is pretty great too.
Also, the fold-up handle of this filter makes it fit right into the tank. The lifetime warranty of the product is pretty great too.
Price: $129.99
Key Specifications:
Designed with triple filter baskets
Flow valves offer 360-degree rotational movement for flexibility
Ideal for up to 100 gallons tank capacity
Designed with push-button primer
Pros
Ideal for any kind of aquarium setup
Powerful and efficient motor
Designed with a large filter box
Easy to install
It can be integrated with customized filter media
Cons
5. Polar Aurora 4-Stage External Canister Filter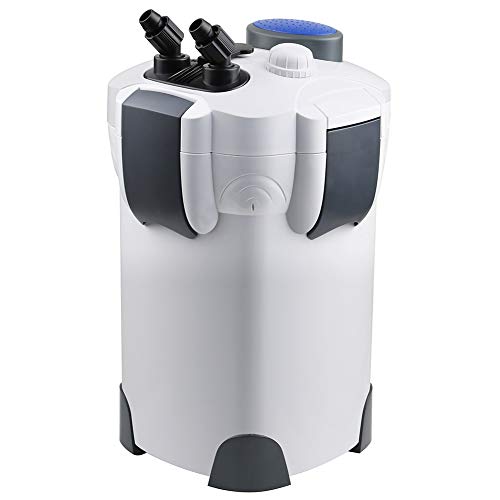 While we are on the topic of canister filters, this one is another worthy mention. Not just for your staple 50-gallons tank, this works for up to 200 gallons tank. So, if you consider upgrading your aquarium in the future, this can be a good investment.
Besides the basic and durable design, the filter comes with an external canister. The functions of this filter make it perfect for advanced users. However, if you know how to handle aquarium filters, this should be an easy ride.
However, the reason why it isn't beginner-friendly is due to the complex design. There are several parts to the design that makes the setup and installation tedious. The 525GPH is a highly powerful motor, so you need this in tanks that need a higher water flow rate.
The canister design of this filter supports 4-stage filtration too. So, not just cleaning the biological waste, it also works with the mechanical and chemical toxicity in the tank. The more you use this filter, the easier it becomes to clean and manage it.
Also, avoid cleaning the filter every two days. The filtration itself takes up to 2 days in total. So, you need to be vigilant once the cleaning is done. You can insert a spray bar underwater for a faster water flow rate and filtration for optimal functions.
Price: $129.74
Key Specifications:
Ideal for fish tanks up to 200 gallons capacity
It comes with an internal adjustable spray bar
Supports four-stage filtration
High power motor with 525GPH
It comes with a built-in sterilizer for treating bacteria and algae deposition in the tank
Pros
Cleans every kind of water waste in the tank
Powerful motor
Ultra-quiet performance
Replaceable filter media
Affordable price range
Cons
6. Fluval External Filter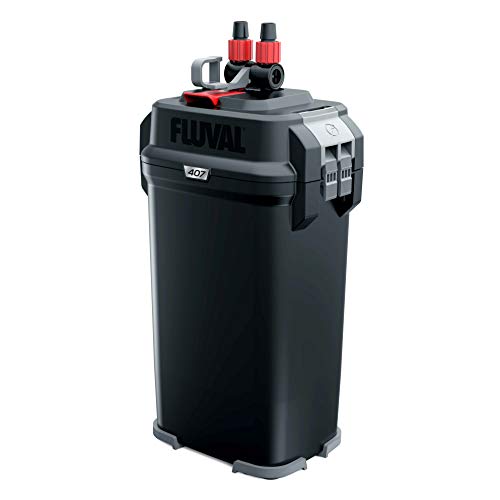 With so many small fish tank filters that we have mentioned, the Fluval External Filter deserved a special mention. Unlike the other options, this one is an external filter. This means that you won't have to dunk it into the tank for filtration.
Despite the high-end price, this filter stands up to its claims. This requires very little maintenance and comes powered with a good motor for optimal cleaning. Since it is an external filter, you won't have to worry about frequently cleaning it, which is a bonus.
The filter does look intimidating and very bulky from the exterior. However, that doesn't mean you don't get value for what you pay. The installation process is easy and quite hassle-free. All you need to do is follow the instructions mentioned.
The good thing about this filter is its smart functions. Unlike most other aquarium filters that get rid of every chemical and biological waste, this does not. It preserves the good bacteria in the water to support the efficient conversion of ammonia into nitrate.
The adjustment valve in the filter comes in handy. If you want to manage the flow rate, this takes care of that for you. The design of this filter is done in a way to reduces friction and ensures efficient performance. You won't have to worry about the constant whirring noise coming from the tank.
The filter also allows the users to control the flow rate, which is always a benefit too. The high-power motor cleans out the dirt from the water and doesn't leave it murky and toxic. So, if your aquarium consists of fish that need clean water to survive, this is a good bet.
Also, since this is an external filter, we'd recommend placing it right by the side. Avoid hanging the filter. The filter comes with customized filter media trays that you can change and replace according to your needs.
Price: $209.99
Key Specifications:
Supports multi-stage filtration with an adjustable flow rate
Tackles mechanical, chemical, and biological filtration
It comes with customized filter media trays
Preserves the good bacteria colony
Pros
Quicker and powerful motor efficiency
Easy to set up and install
Backed with a 3-years warranty
Quiet and noise-free operation
Ideal for every aquarium type
Cons
Quite expensive and overpriced
7. DaToo Aquarium Power Filter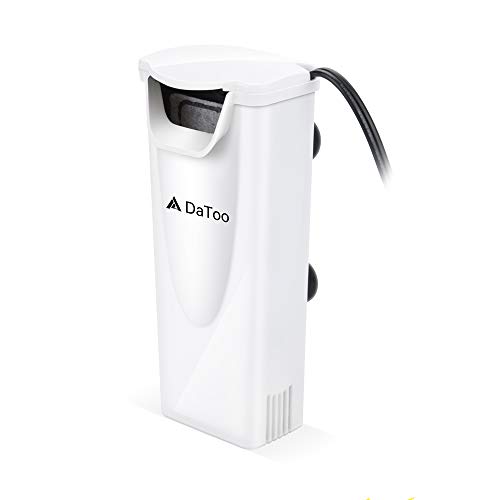 For the aquarists looking for a filter under $15, the DaToo Aquarium Power Filter is your best choice. Besides the cheaper price point, this filter is efficient and powerful to get rid of all the dirt and gunk in your tank.
The strong horsepower with waterfall-type water flow makes it an ideal purchase. So, if you are looking for a 24-hours water filter, this is your best bet. The enhanced filter cartridge design gets rid of the toxic waste and cleans the water in no time. More efficiently, it also gets rid of the odor that dissolves in the water.
The large space in the filter allows the aquarists to add in more filter media according to the requirements. You can add carbon filters, biochemical balls, etc. This expands and enhances the filtration rate by 3x.
The bestselling feature of this filter is its quiet operation. If you have the aquarium in your bedroom and don't want the constant buzzing noise, this one takes the show. The entire design and plastic material of the filter is BPA-free and non-toxic.
The sturdy design makes it easier for you to immerse the filter in the water without any fair complications. Also, the device is extremely energy efficient, which is why it is such a favorable option.
Price: $11.79
Key Specifications
Ideal for different filtration reasons
Designed with BPA-free plastic
Energy-efficient consuming 2kwh per month
Ultra-quiet design
It comes with extra filter space for customized filter media
Pros
Sleek and sturdy design
Highly efficient
Ideal for 24-hours filtration
It doesn't create a buzzing noise
3x better filtration
Cons
Not the most powerful water flow rates
Types of Filter and Noise Level
When it comes to aquarium filters, there are quite a few types to choose from. You have your staple hang on back filters, and then there are external filters too. Typically, as the technology evolves, more refined designs are coming out in the market.
But, it is not just the design that's evolving. Brands are also focused on manufacturing ultra-quiet filters that are ideal for keeping switched on throughout the day.
Some of the common types of aquarium filters include:
Canister filters
Diatom filters
Trickle filters
Baffle filters
Algae filters
Fluidized bed filters
Undergravel filters
Airlift filters
Deep sand bed
Protein skimmers, etc.
Typically, a good-quality aquarium filter should not create a lot of noise. Most of the options emit a low hum or buzzing noise. If your filter is creating a lot of noise, it is likely the fault of the motor. If the bearing is creating a lot of friction, it leads to a whirring noise.
Quiet Fish Tank Filter Buying Guide
The main objective of a filter is to keep the water clean and the water flowing. Both of these functions are needed to keep your fish healthy and alive. However, when selecting the best quiet fish tank filter, being mindful of some features is important.
Typically, you need to look into multiple factors, including:
Consider the Maintenance
The first factor considered is maintenance and cleaning. If you don't want the hassle of scrubbing down for years, look for one that doesn't require much maintenance. Ideally, you want a filter that supports easy changing of media, filters, and cartridges.
Tank Size Support
This article emphasizes the best quiet filters for all types of fish tanks. However, the choice should be depending on how much tank capacity you have. If your aquarium is 100-gallons, you need a tank accordingly. The choice should be made depending on the setup that you have at home.
Price and Budget
Fish tank filters don't always come cheap. There are a few cheaper options, and then you have the high-end ones. Typically, the choice should be based on quality and efficiency. You don't want to rely on options just based on the price.
Filter Types
Lastly, consider the filter types for the tank. Typically, buy the filters that support mechanical, biological, and chemical filtration. Even if you can't find a filter that supports all three, you need one to take care of the biological and mechanical filtration. So, based on those requirements, find the option that works the best for your setup.
FAQ's
Will Changing My Filter Media Make My Tank Quieter?

Yes, it can. Sometimes, a lack of clean filter media clogs the filter and creates noise. If your filter media is posing obstruction due to lack of cleaning, changing it will help sort that issue out. Typically, you should clear out the filter media or cartridge every month or every 1.5 months.
Can I Make an Air Pump Quieter for My Sponge Filter?

Sponge filters are themselves very quiet with their functions. This is primarily due to the inner sponge media that conceal the noise. If your air pump in the sponge filter is making noise, check the motor and the bearings. Oiling helps too.
Conclusion
If you are tired of listening to the constant whirring and buzzing noise from the tank, we hope this list helps. Choosing a quiet filter for your fish tank can be life-changing. Besides cutting out the noise, it also tackles the efficiency of the product, which is another benefit.
There are hundreds and thousands of options, so you should be good. However, we have sorted out some of our favorite picks with hopes that it caters to your needs too.
Just ensure that you check the quality and efficiency of the filter before making the final purchase. In case you have further queries, feel free to leave them for us in the comments.
Find Big discount for Fish and Aquatic products here