Find Big discount for Fish and Aquatic products here
You found Saltwater Aquarium Blog, so there's a good chance you're surfing the internet looking for helpful information about setting up or maintaining a reef aquarium. I know this site is just one stop on the information superhighway. Nothing more than a detour through a town with a single blinking yellow light. I don't have a monopoly on useful or interesting information. But I want to make sure you have those kinds of resources. So I put together this list of the top 5 free reef magazines you can find in cyberspace. Combined together with this blog, they're sure to get you all the answers you'll ever need.
Table of Contents: Top 5 Free Reef Magazines
Now, if you have some disposable income, you can peruse the stands in your book store of choice in the hobby section. Reef magazines aren't too thick on the ground, but you CAN find them. And you always have the option of taking out a subscription. Why spend extra money if you don't have to, though? Plenty of hobbyists have banded together to set up FREE magazines aquarists can refer to. They feel your bank account's better applied to new coral frags or a spectacular fish species. (And I agree) So bookmark the links you find below and save a few rainforest trees in the process.
Marine Habitat Reef Magazine
We'll kick things off with a bit of a catch-22. Yes, Marine Habitat IS free. However, it's no longer in print. The publishing company shut things down in 2014. But they recognized the value their reef magazines brought to the aquarium industry. So, in a generous move, they shifted ALL of the issues (in PDF format) to a Google Drive where anyone can access and read them at any time. And it's completely free of charge!
You'll find 21 complete issues available for perusal. It's worth keeping in your Bookmarks, even if you won't find any new material generated. The articles still contain helpful information. And as long as you remember some things may go out of date, you're in the clear. You won't regret taking the time to look through the issues. If nothing else, you may find inspiration that will lead you to a new design or for further research on a topic. (A starting place is always good!)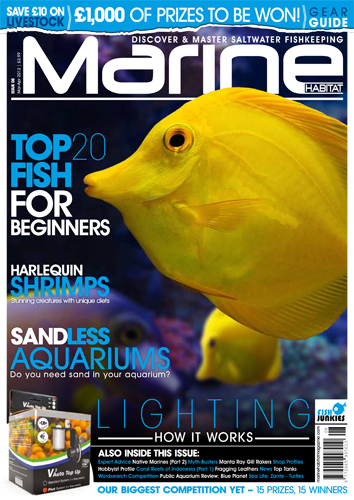 Practical Fishkeeping Magazine
When it comes to Practical Fishkeeping Magazine, you need to do a little digging on the site to unearth the free aspect of the reef magazine. It's available in print (from the United Kingdom), and you can purchase a subscription. However, they also maintain a blog. If you drop to the bottom, you'll find links to popular topics that continue to populate. And there's no fee for the blog. It's ready information that parallels the information in their reef magazines.
Now, they DO cover freshwater and saltwater topics. So make sure you consider your search terms carefully. (We don't have anything against freshwater tanks here, but we know your heart lies in the saltwater hobby). You can also add yourself to their newsletter (no charge there) and receive news and updates that way. It's a handy workaround if you'd rather not pick up a subscription for your reef magazines.
Reef Hobbyist Magazine
Some of the reef magazines straddle the line between an internet and print presence. It gives you options. (Say, if you'd like to keep your electronics away from the water) Reef Hobbyist Magazine is one of them. If you opt for their print publication, you'll end up with a quarterly subscription. But the online version is free. You can also go through the archives to search for older articles. It's a handy reference to keep bookmarked and refer to.
They cover everything from fish and corals to products. It gives you something new to consider every time you pop over. I'm not as impressed with the aesthetics of their site, but that's a minor detail. As long as you're getting the info you need, that's all that matters. (And, of course, the free part) And if you decide you like the info you're finding? Maybe you'll set aside some funds to move up to that print subscription. It's something to consider.

Reefs.com
Reefs.com is your one-stop "shop" when it comes to reef magazines. They're a top blog resource for anyone in the aquarium hobby. If you're an avid reader of reef magazines, then you know they acquired the popular Advanced Aquarist Magazine. ALL of the issues of AAM remain stocked in the Reefs archives, available with a quick search. And everything's 100% free. It's a treasure-trove for the studious hobbyist.
The site's also designed to make any topic easy to read, research, and locate. You'll find additional reading listed at the bottom of every article, guiding you toward new information you didn't know you wanted. (The rabbit hole's endless) And everything's accompanied by some of the most stunning underwater photography you can imagine. If you're not already haunting the page for the newest posts, you need to start! (Besides, where else can you find reef magazines AND blogs in the same location – all with no charge?)

Tropical Fish Hobbyist Reef Magazine
Similar to Reef Hobbyist, you're free to purchase a subscription to Tropical Fish Hobbyist. The reef magazine produced look slick and arrive on your doorstep (or into your inbox; they offer digital copies, too). However, the folks are also kind enough to provide content-only (no ads) versions for free on the site. Nothing more than the articles displayed with the same information and gorgeous imagery. All you lose is the advertising, layouts, and bonus extras of the print version.
The library's easy to dive into and search. You'll find information on freshwater, saltwater, plants, and tank setups. You can also sign up to receive one free copy of an archived issue. So if you happen to know of a favorite you want to keep on your shelves, you can submit your request. (Not a bad deal!) And as new material hits the stacks of newsstands, they add to the site. You can't ask for better than that! As far as reef magazines go – especially in the free category – it's one of the top options.
One Outlier Reef Magazine: CORAL
Now, I'd be remiss if I didn't slide in a mention of the BEST reef magazine out there. If money's no object for you, you need to look into CORAL. CORAL is a bi-monthly reef magazine chock full of everything you need in this hobby (including some of the most stunning photographs you'll find anywhere). They keep their fingers on the pulse of the aquarium industry, offering insight into everything an aquarist needs. Unfortunately, you won't find a free option here (hence that "outlier" tag). It's the only downside to the publication.
CORAL's on the pricey side. You'll need a subscription, which you can get from Reef to Rainforest, Amazon (if you're like me and want your subscriptions managed through a single portal), or from their site.  (Please note:  Amazon links are affiliate links. This means if you subscribe by clicking one, I'll earn a small commission – at no additional cost to you). I DO recommend CORAL as a top reef magazine – with or without a referral link. It's the best option out there.

For More Information
Owning and maintaining a saltwater aquarium means staying on top of trends and information. But it also means you'll end up spending money on equipment, new creatures, and supplies. You want to keep up with the latest techniques and advice, but you'd also like to invest in a new LED lighting situation. With free reef magazines, you don't need to compromise. You can read up on everything that piques your interest WITHOUT checking your bank balance. And if you want some more info, you'll find it here.
I already mentioned CORAL tops the list when it comes to reef magazines. So why not check out this YouTube video on how to score some FREE issues?
And let's keep the free theme rolling. I wrote a popular eBook on common saltwater aquarium mistakes. (A touch longer than the average reef magazines, but still worth your time!) With a simple click on the link below, you can access that information – completely free of charge! (See how nice I am?)
——————————————————————————————————————–
Click here to download a free eBook: Avoid the 5 MOST COMMON Saltwater Aquarium Mistakes
——————————————————————————————————————–
Maybe you don't mind spending SOME money, but you'd rather not wade through ads and miscellaneous event information. (Some people like that kind of thing in their reef magazines. Others find them a waste of paper resources) Books work, too if you want to start building an aquarium reference library:
Written by Al Ulrich
Find Big discount for Fish and Aquatic products here